Snack and bistro napkins 1/8 fold
Snack napkins
Smaller napkins folded to a 1/8 fold are suitable for the buffet snack. These napkins, which are 33x33cm when folded out, are called snack napkins.
Bistro napkins
Also in the 1/8 fold are bistro napkins, which are 40x40cm when folded out.
---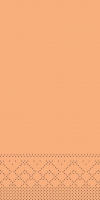 100 pieces per package
Article number: MK-87727.
1 packet in stock.
prices are only available after login or in our private customer shop www.napkins-wimmel.uk
---
mostly requested:
Wedding | Childbirth | Autumn | Halloween | Winter | Flowers | Animals